Amanda


Hello. I am queer, and love my community. Many of my friends are in my community. I am so lucky to be able to exist and be who I am unapologetically. I have been able live without much discrimination, as I was raised in Chicago and am also very white (thank you to my Swedish and Irish skin that burns really easily). However, much of the world has not caught up. There are several countries that have determined me and my community as criminals, illegal, and dirty. Many in the community have lost their lives because of who they were, all stemming from a source of ignorance and hate. Even here in the States, as we have seen not only in the past four years but decades prior, there have been an increasing amount of policy and people who do not understand how important basic
human rights are.


screen printed, painted, sewn, and wood working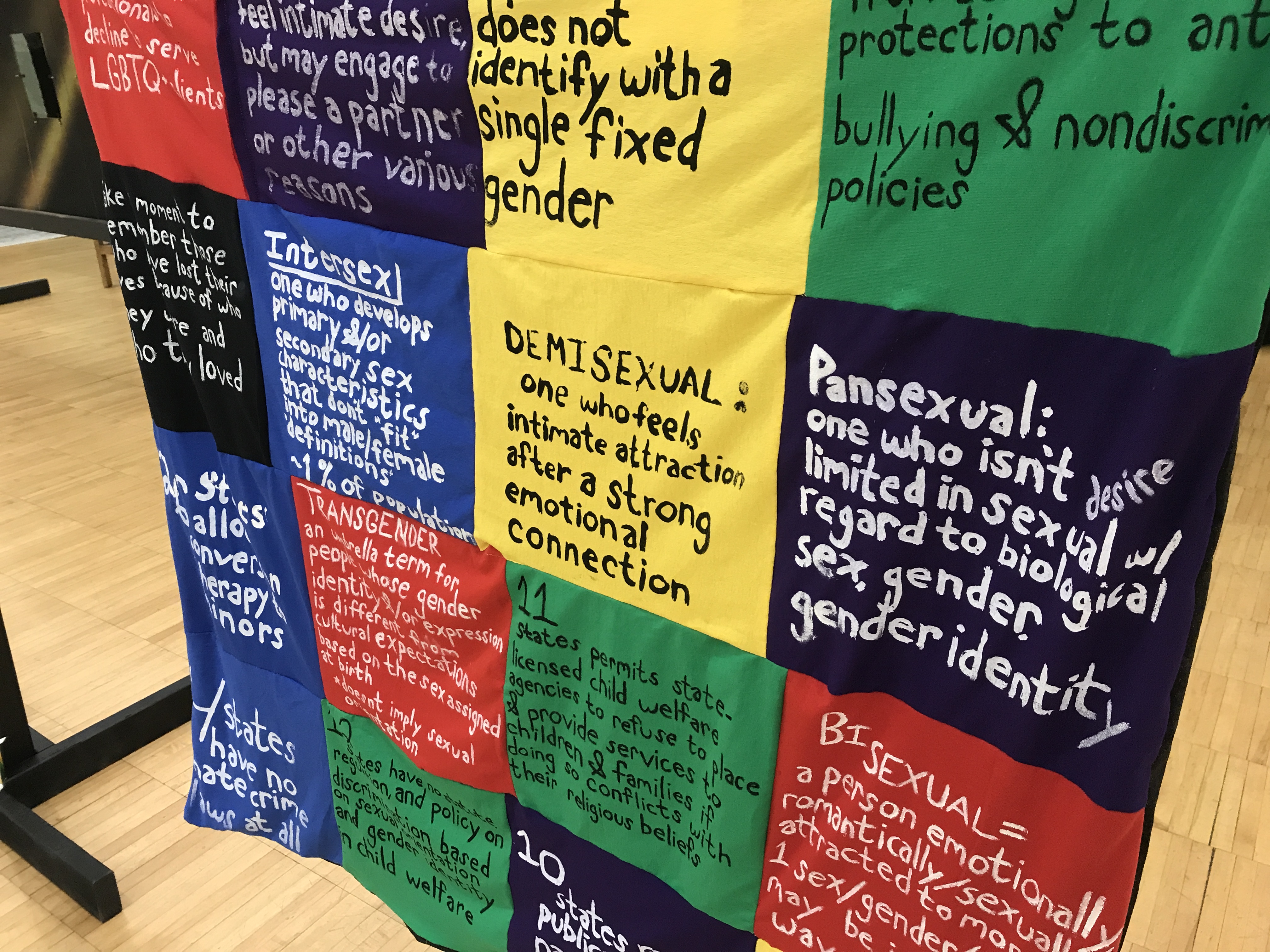 I wanted to focus on LGBTQIA+ terms that most outside of the community may not know. I acknowledge that there are many terms and ways that one can identify and express themselves by, needless to say I have missed a few. They are all valid. I also included laws and government policy that is discriminatory towards LGBTQIA+ people, to show that our fight to exist here normally is not over yet, especially for those who are not as fortunate in having access to resources, a supportive family, race, etc. It is important to realize that black and brown LGBT+ folx are more likely to be discriminated against, marginalized, and have their lives taken from them.



The quilt is a reference the AIDS/HIV epidemic during the 1980's, in which the US government did a lack luster job of helping with research and slowing the epidemic down (seems familiar huh), as well as the spreading homophobia and misconceptions that it was the "gay plague". During this time, the NAMES Project memorial quilt, founded by activist Cleve Jones, was created in a memorial to those who have lost their lives to the disease, since many of those who died did not receive funerals due to social stigma. It is still being added to today, with over 94,000 names on it and weighing over 54 tons. It is maintained by Gert McMullin in San Francisco.


My hope with this project is for people to look inwards, and think about how they are. I would like people to walk away with a sense of reflection and at least one thing learned. I believe that ignorance can be treated by education and conversation. I have covered the posts of the clothesline with chalkboard paint, inviting those to write what the LGBTQIA+ community means to them, or to just draw whatever they will like. My hope is that I will see an inclusive and diverse response of answers. If there is any negativity or hate speech, that just proves my point even further.